Safety Training

Business Training

Retail Security Duties & Training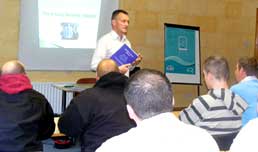 Retail Security Officer today is facing challenges greater than ever before. In our litigation prone society, security officers must be aware of the legislation relating to the Criminal Law, Discrimination, Health & Safety to name just a few. Rising insurance costs, increased violent assaults and increased risk from international terrorist attacks are some of the risks handled daily.
Course Content Includes:
Introduction to the Security Industry

Introduction to the Security Industry

Assignment Instructions

Health and Safety at Work Act, etc.

The Retail Security Officer and The Law

Fire and Safety Awareness

Reporting, Notebooks, Statements and Crime Scenes

Major Incidents

Identification of Would-be Offenders

Patrol and Patrolling Techniques

Searching

Alarms, Electronic Surveillance Systems and Point of Sale

Customer Care and Social Skills

Equal Opportunities and Discrimination

Drugs (optional module)
Course Duration & Format:
16 hours - The training takes place over two days or four evenings.

Written assessment at the end of the course. Supports are available for students with literacy and learning difficulties. Further confidential information available from course administrator.
Qualification:
The Retail Security Officer Training course is certified by
FETAC Level 4

Security Institute of Ireland